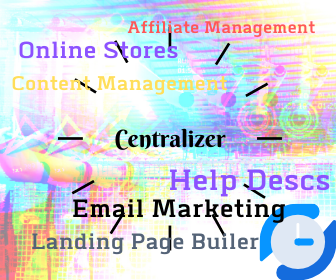 Whether you have an existing internet business or you're thinking about starting one, the Centralizer is your ultimate solution to put it on auto-pilot and stop doing things the hard way!
Here is what you can do:
Sell Unlimited products in unlimited stores to unlimited customers!

Increase your traffic and sales exponentially with zero advertising!
Setup blogs, websites or create members area Easily and Securely!

Handle all your support requests and increase customer Satisfaction.

Automatically follow-up with your website visitors and close the sale!
Create responsive landing pages to convert your visitors into leads.